The Singer Model 221 "Featherweight" Sewing Machine
Dear Customers,

I am sorry to say that I have stopped taking any new restoration work for the next several months. As some of you know, I have been looking for a "real" job for some time now, and I was finally able to land one that I like! Unfortunately, it will be contract for the first 3-6 months, but most likely lead to a direct hire position. So....I have shut down my Featherweight Factory restoration work for about 6 months. I will never give up my Featherweights, but I will not be doing any restoration work until things are settled. I have just moved up to the Milwaukee area of Wisconsin and will be living out of a hotel room. Thankfully my daughter lives less than a mile away from our place in El Paso, so my wife will stay with her during this contract period. I figure I will be spending most of my time in the office getting to know the job, industry and product line, and didn't want my wife sitting in a hotel room all day alone. Moving all our stuff into storage has been a pain, and I was shocked at finding over 100 Featherweights in my inventory, but at least they will be ready to go when we move. At least I will have more time to write some more articles for the Question of the week section of the website. I have been way behind on those as customer restorations have kept me really busy. And yes, I will be bringing a few machines with me to tinker with!
Thank you for your patience! -Leo 02/2012
I Offer The Following Restoration Services:

Machine Restoration

Machine restoration is a complete process from the ground up. First I will disassemble the machine, clean and inspect all of the parts and check for any wear/damage. If there is anything that needs replacing I will of course let you know. Generally I have about 6-10 spare parts machines and don't charge anything extra for parts unless I have to order them. I then completely remove the old finish down to bare metal, and surface prep the bare aluminum body. I use only professional automotive finishes with professional painting equipment. This not spray can paint!
Once the bare aluminum hull is finished and ready for paint, I apply an etch primer, then urethane primer, finish sand and then apply a sealer, then the color coat, followed by a seal coat of clear urethane. Once the finish has cured, I then install new decals and finish up with a few more coats of clear urethane to embed and protect the decals and provide an unmatched protective clear finish with exceptional durability. This sounds much simpler than it is, and I spend about 50 hours of labor on each machine so anticipate about 2-3 weeks for restoration. Then the machine is reassembled and each part hand fitted and adjusted to factory specifications to ensure it will sew like new.
I also go through the motor and foot control to ensure they are working properly and electrically safe.
This would also be a good time to consider any other cosmetic changes such as a chrome hand wheel or other chrome pieces to dress up your machine. Your machine will look brand-new and be running perfectly when I return it to you. I won't let a machine leave my hands until I am happy with it.
I have to charge a little extra for custom colors as it is more expensive than the black, which I buy in bulk. Figure about $50 extra for a custom color. You can see some of the custom colors for yourself at this website: House of Kolor.
Write to me using the "Contact Us" tab with the details of what you want and we can arrange for the shipping of your machine.
No matter what condition your machine is in, excluding broken housings, I will bring your machine back to its original beauty and glory! Why live with a machine that looks bad? Why not restore it and bring out a beautifully restored classic at your next quilting gathering!


Go From This....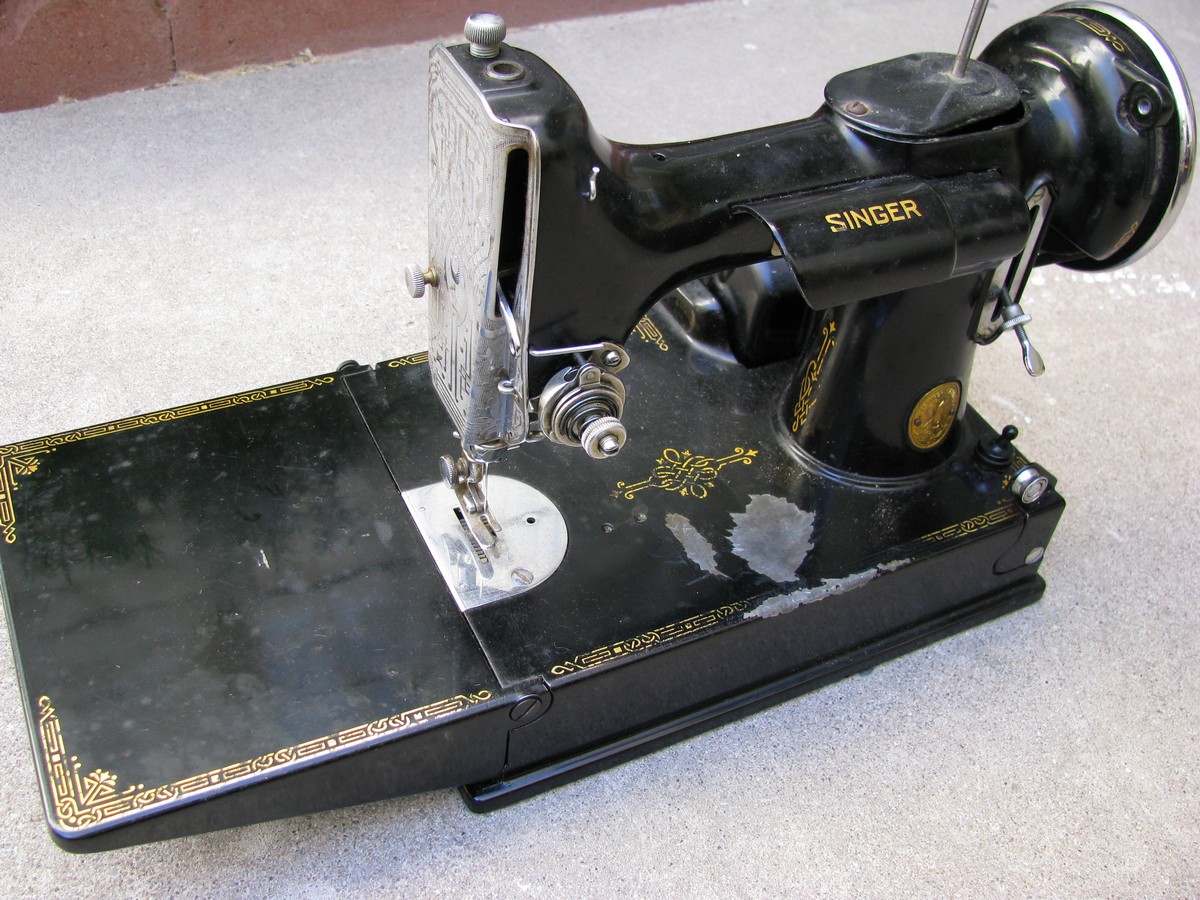 To This!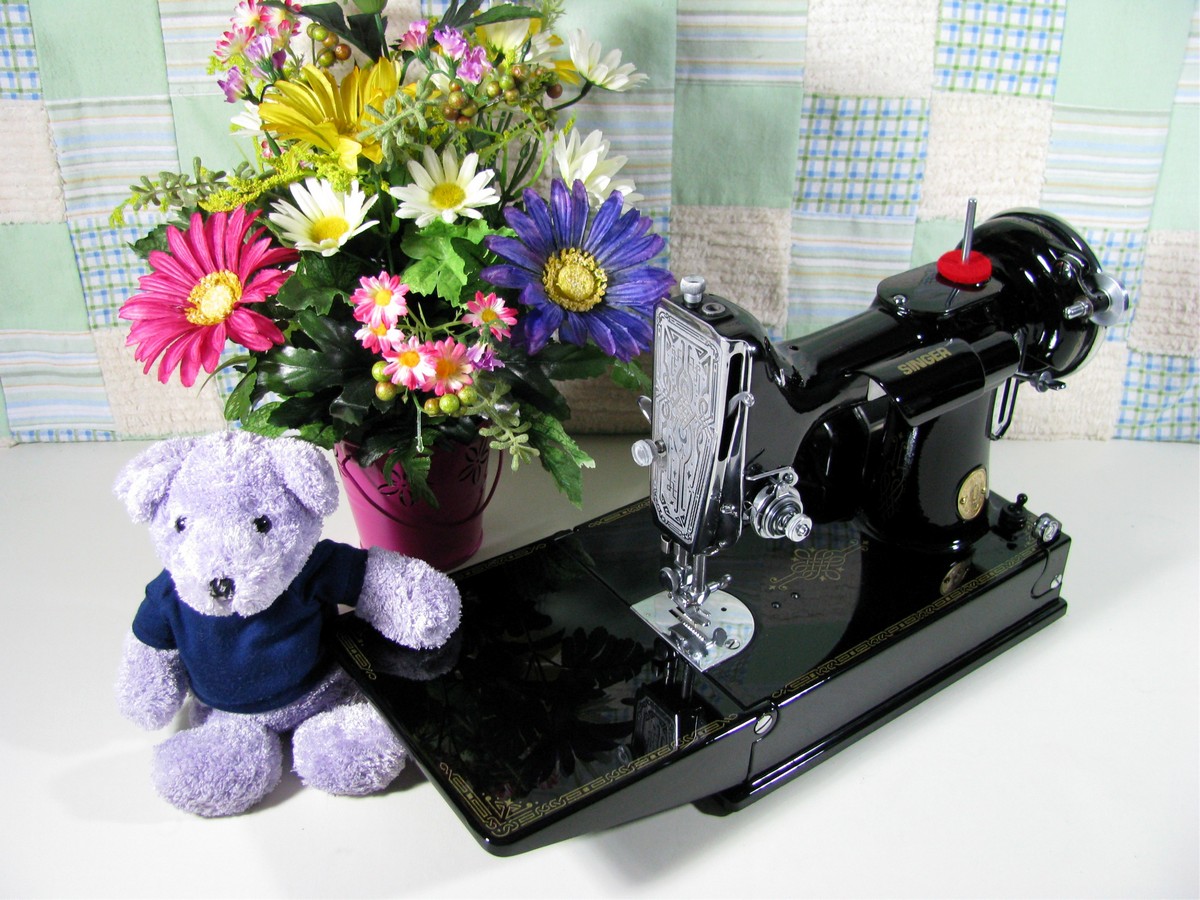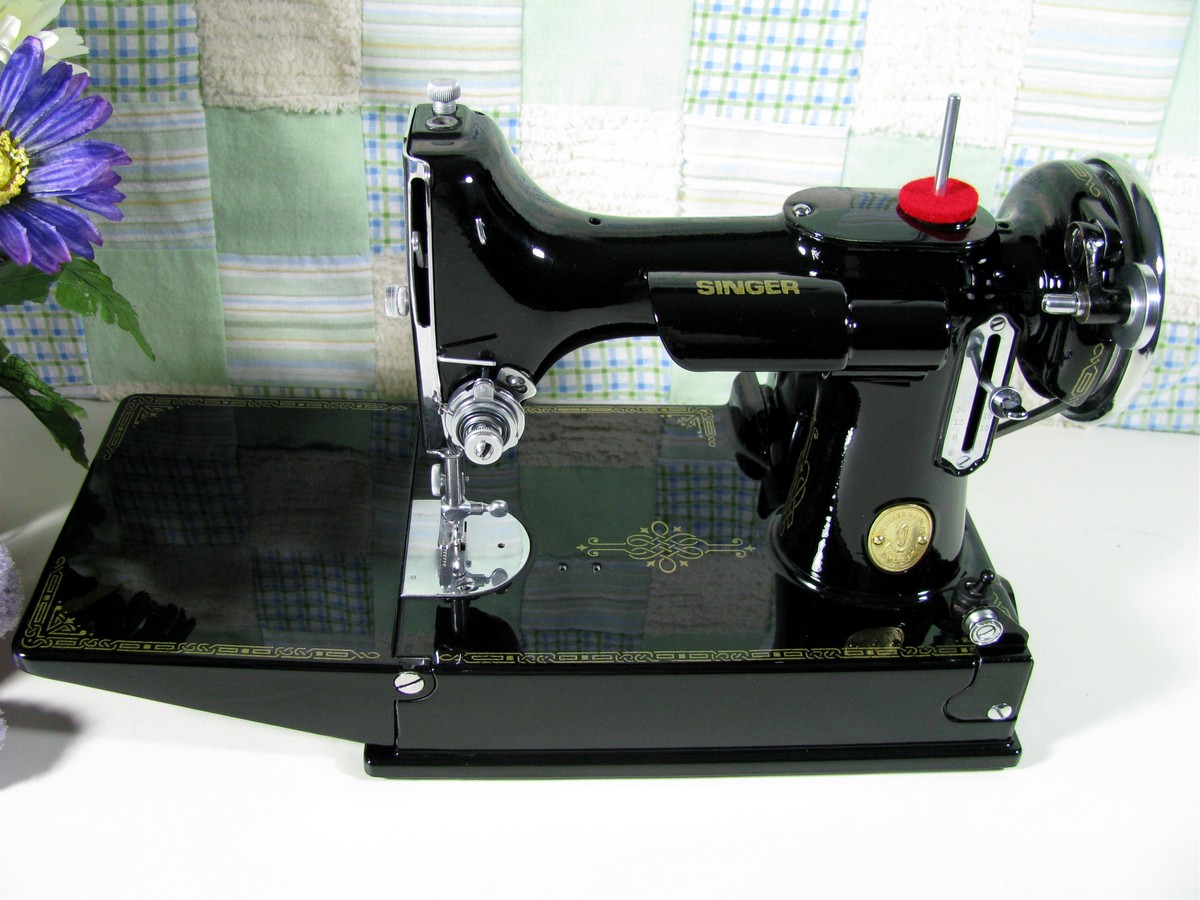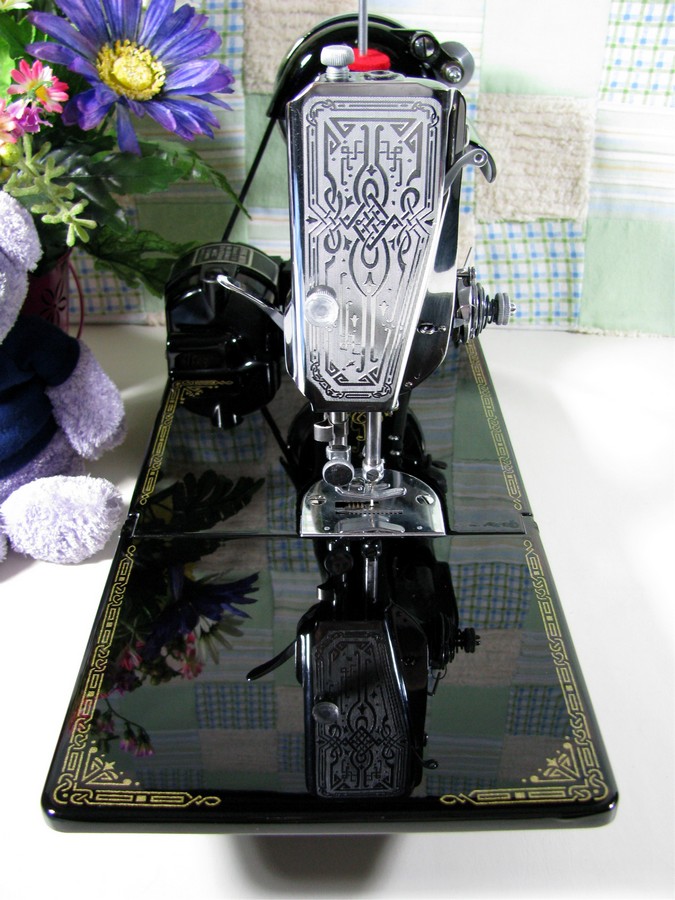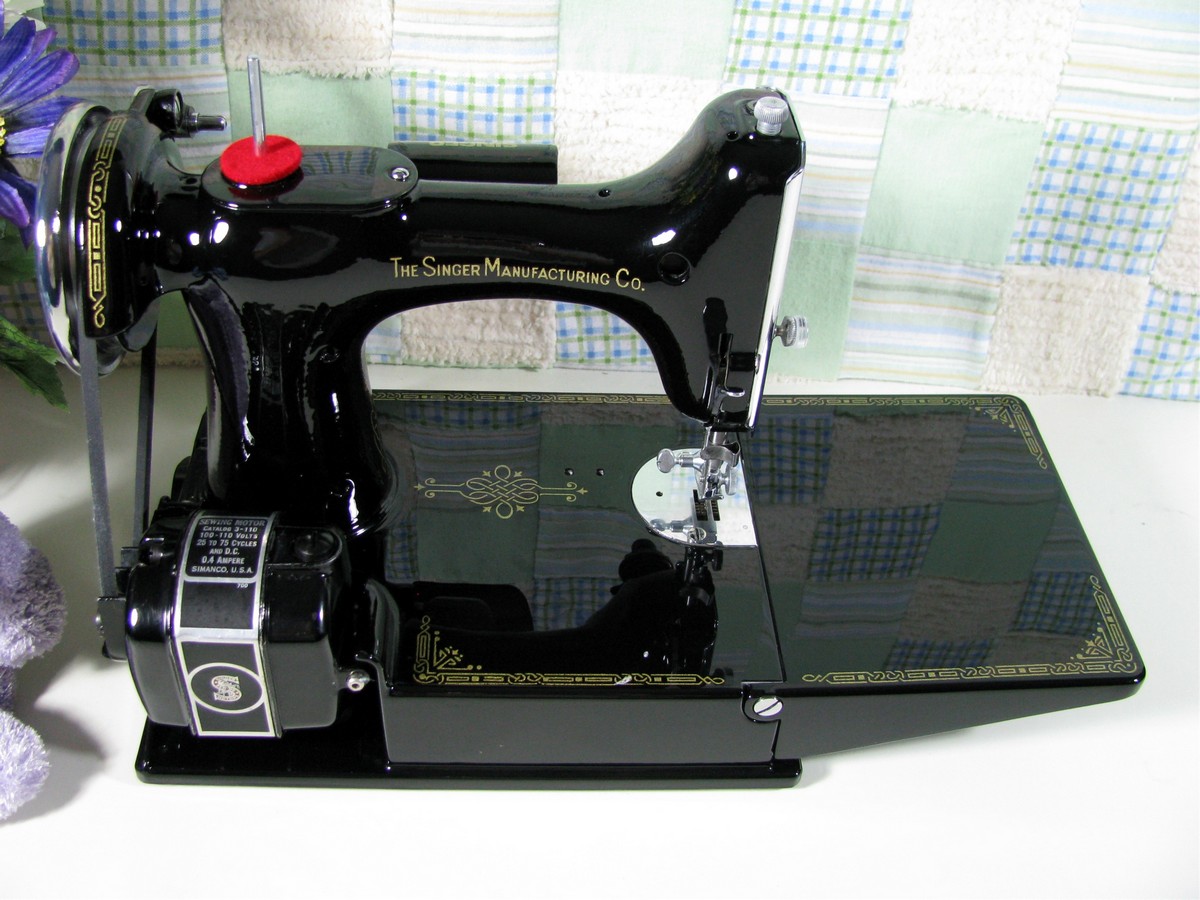 Or This!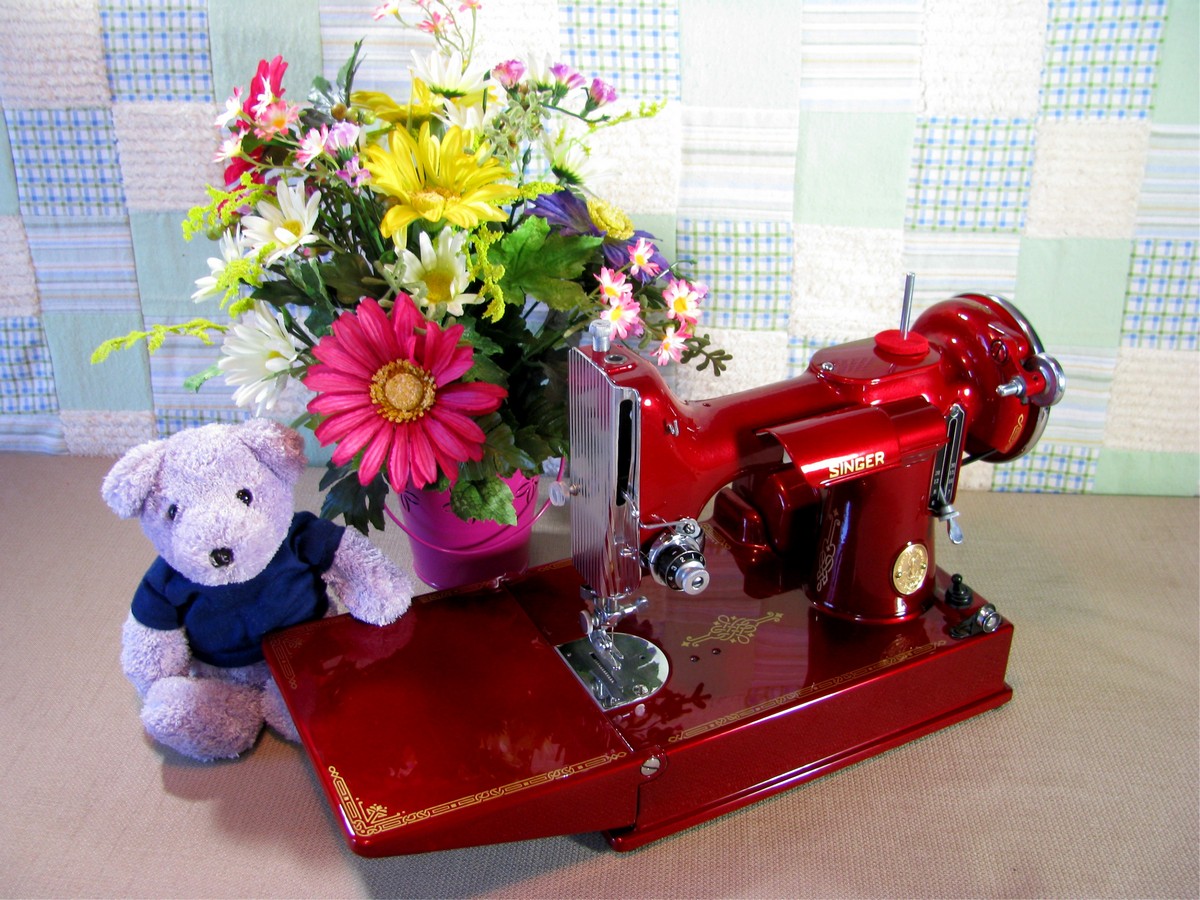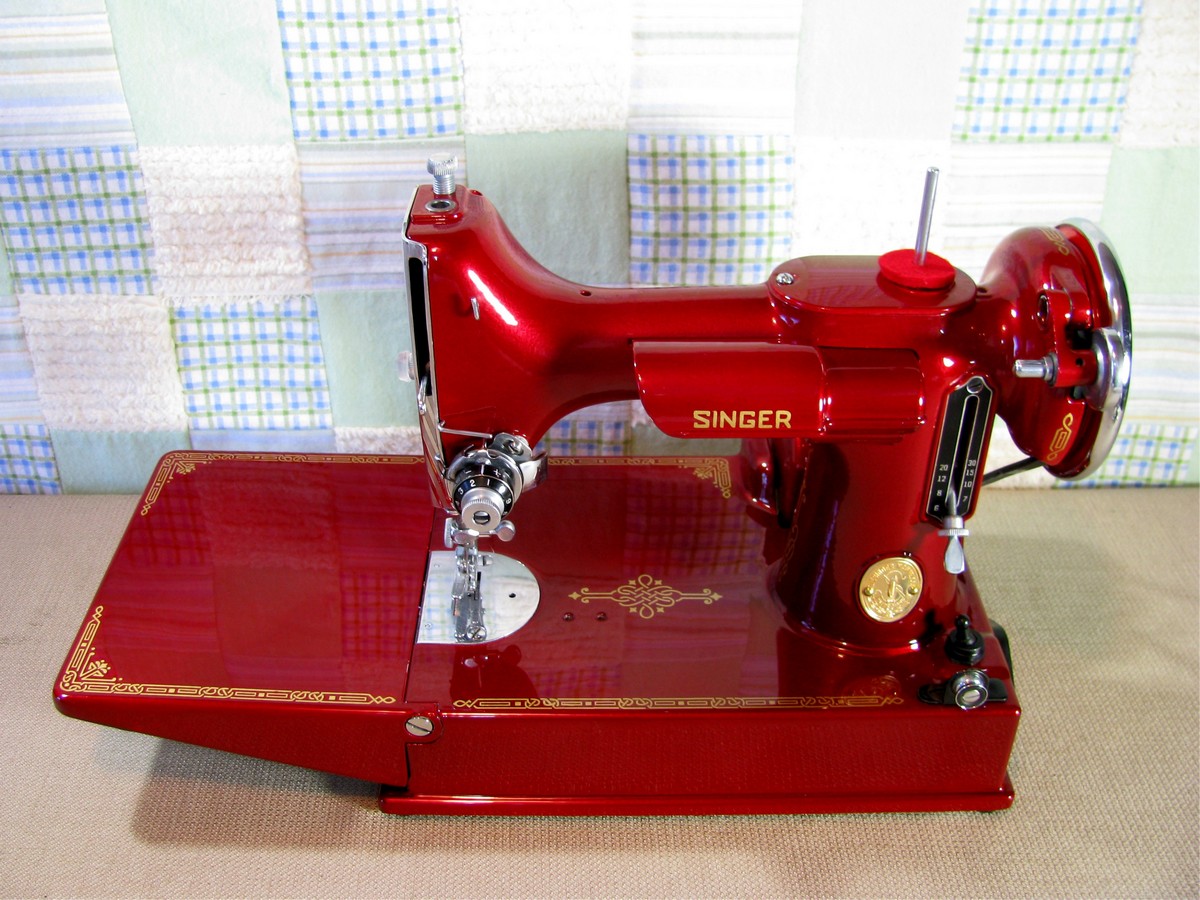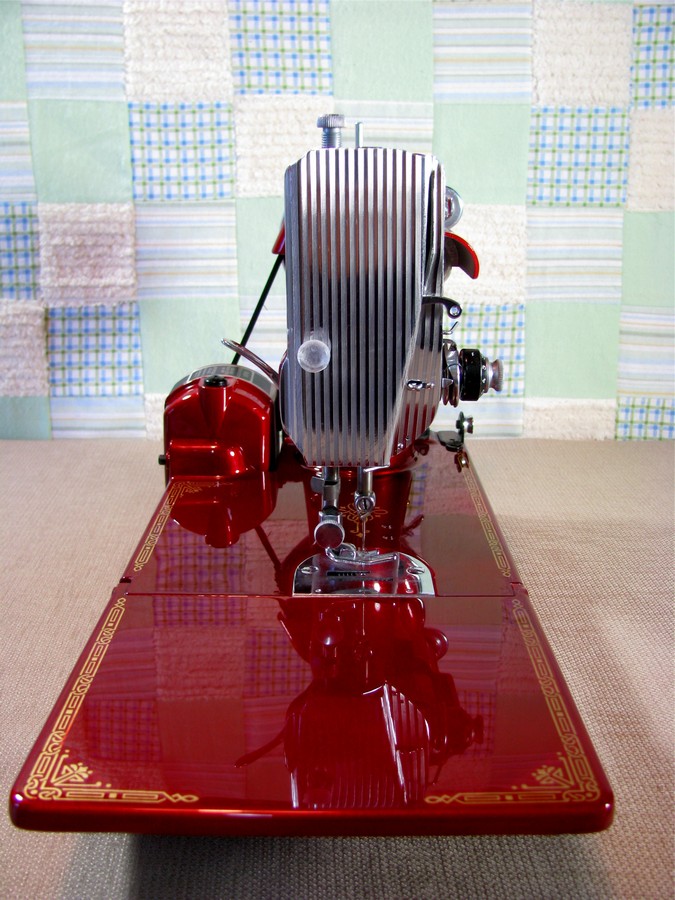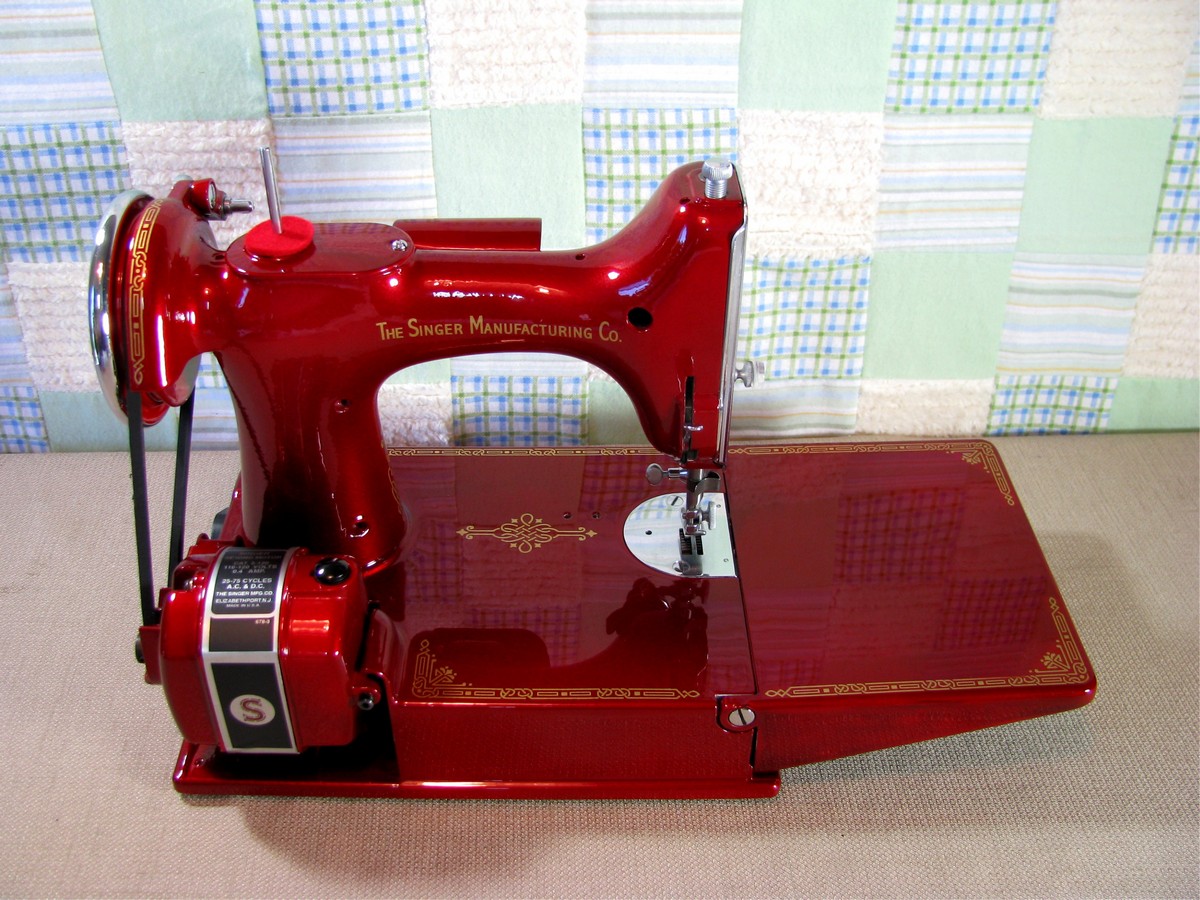 Case Restoration
I also restore cases if you would like to have a new looking case for your newly restored Featherweight. I got into the case restoration mostly because I could not stand to sell a restored machine with an old, smelly case. I did not originally plan on doing this for customers, but the demand has been pretty strong so I decided to add it as a service as well. To be honest, it is a pain in the butt, but I do like the way they come out when finished.
The wood used on original Singer cases are edge glued pieces only a few inches wide, and over time they crack apart, same with the box joint corners. Then of course add in damp, musty basements and the bottoms rot off.
I take the cases completely apart, strip off the old fabric, reinforce the edge glued pieces by doweling any broken/cracked pieces with 1/8" dowel rods, re-glue everything, repair/replace any rotted wood, then recover with new Tolex material that matches the original very well, recover the interior with a similar fabric to original, reuse the old hardware when possible, or replace with good used parts and new metal feet for the case bottom.
If it has a leather handle, I replace that with a nice leather one. I hand sew the leather patches that the "D" ring handles use, and that is sewn right through the wood lid! The only part that I do not restore is the inside case tray. I have always been able to clean them up very well.
If there are any broken or missing parts, like the latches, which always seem to break, I can replace them with good used parts to keep original or use aftermarket matching latch/lock/key.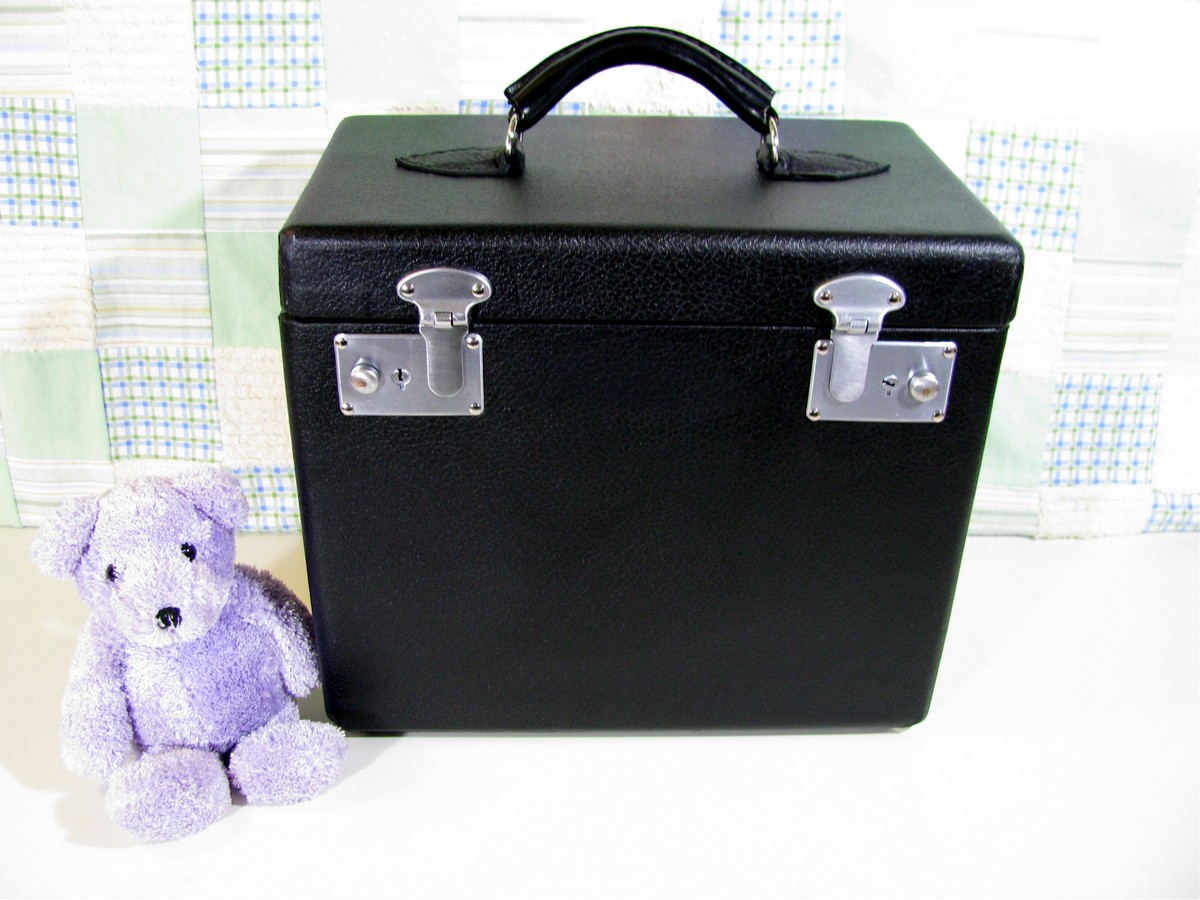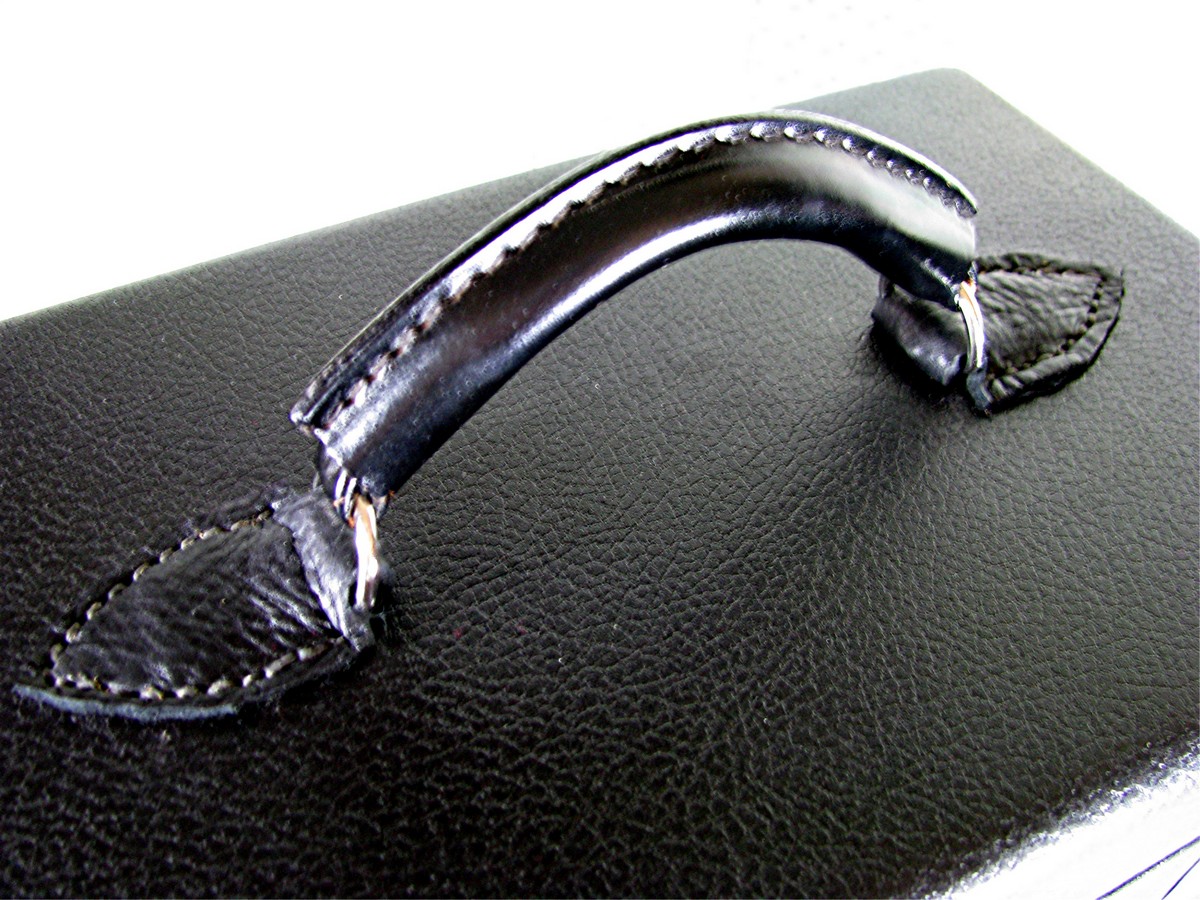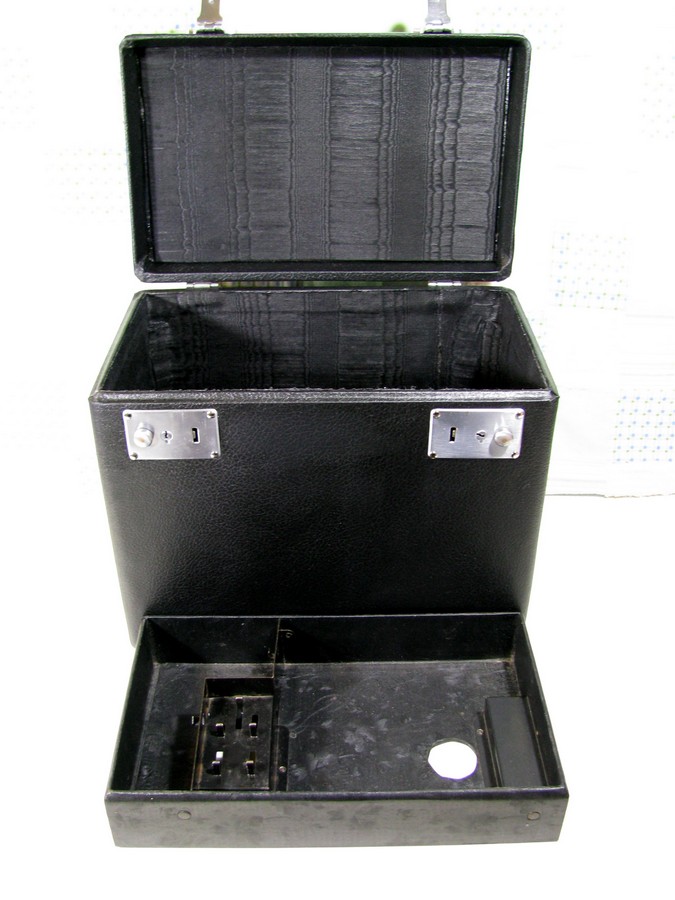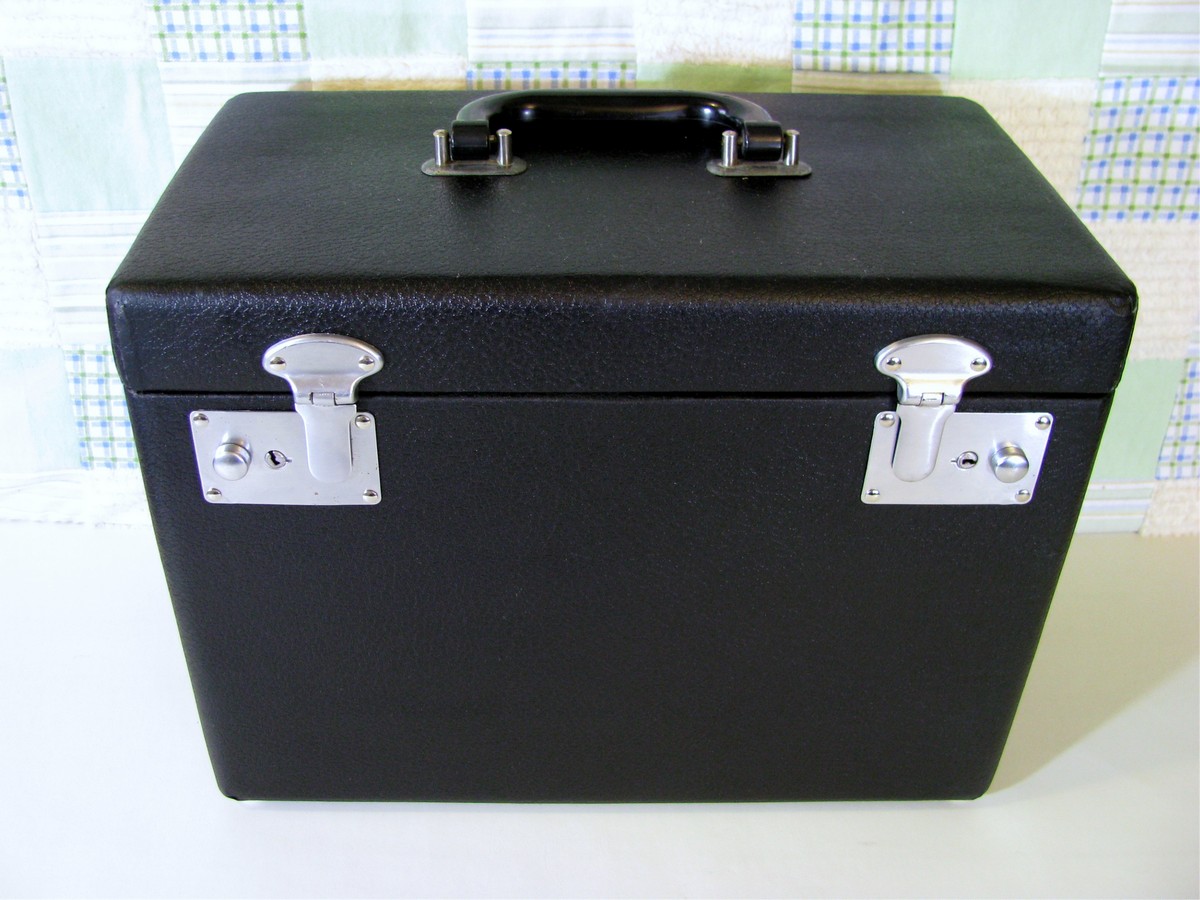 Contact me at: Leo@TheFeatherweight221Factory.com